Centerra recognizes that climate change is one of the most pressing concerns for communities, regulators, and investors and that both physical and transitional climate risks have the potential to impact our operations.
We recognize that human activity is leading to an increase in greenhouse gases (GHG), such as carbon dioxide, in the atmosphere, which is contributing to climate change. Climate impacts are being experienced across the globe, ranging from chronic shifts in wet and dry years impacting water management activities, to an increasing frequency and severity of extreme weather events.
Extreme weather events and long-term shifts in climate patterns have the potential to impact mining operations. Centerra is reviewing how our operations could be impacted by the physical risks of climate change. The impact of climate change and associated regulatory and market developments present both risks and opportunities for the Company. Over the life of a mine, Centerra implements a number of initiatives and allocates capital to reduce its energy consumption, carbon footprint and exposure to the physical impacts of climate change (including those regarding water availability).
Our strategic approach to climate change is underpinned by a belief that reducing energy use and GHG emissions is both good for business and good for the environment. Our main objective is to evaluate our systems, processes and structures to identify potential pathways, initiatives and actions that exceed our threshold for mitigating risks. In 2022, we focused on updating our risk assessments and incorporating an appropriate methodology for calculating and reporting our Scope 3 emissions. Into 2023, we will be considering targets, assessing how climate risks will play out under different future scenarios and completing a quantitative assessment of financial risks due to climate change.
Centerra Climate Change Strategy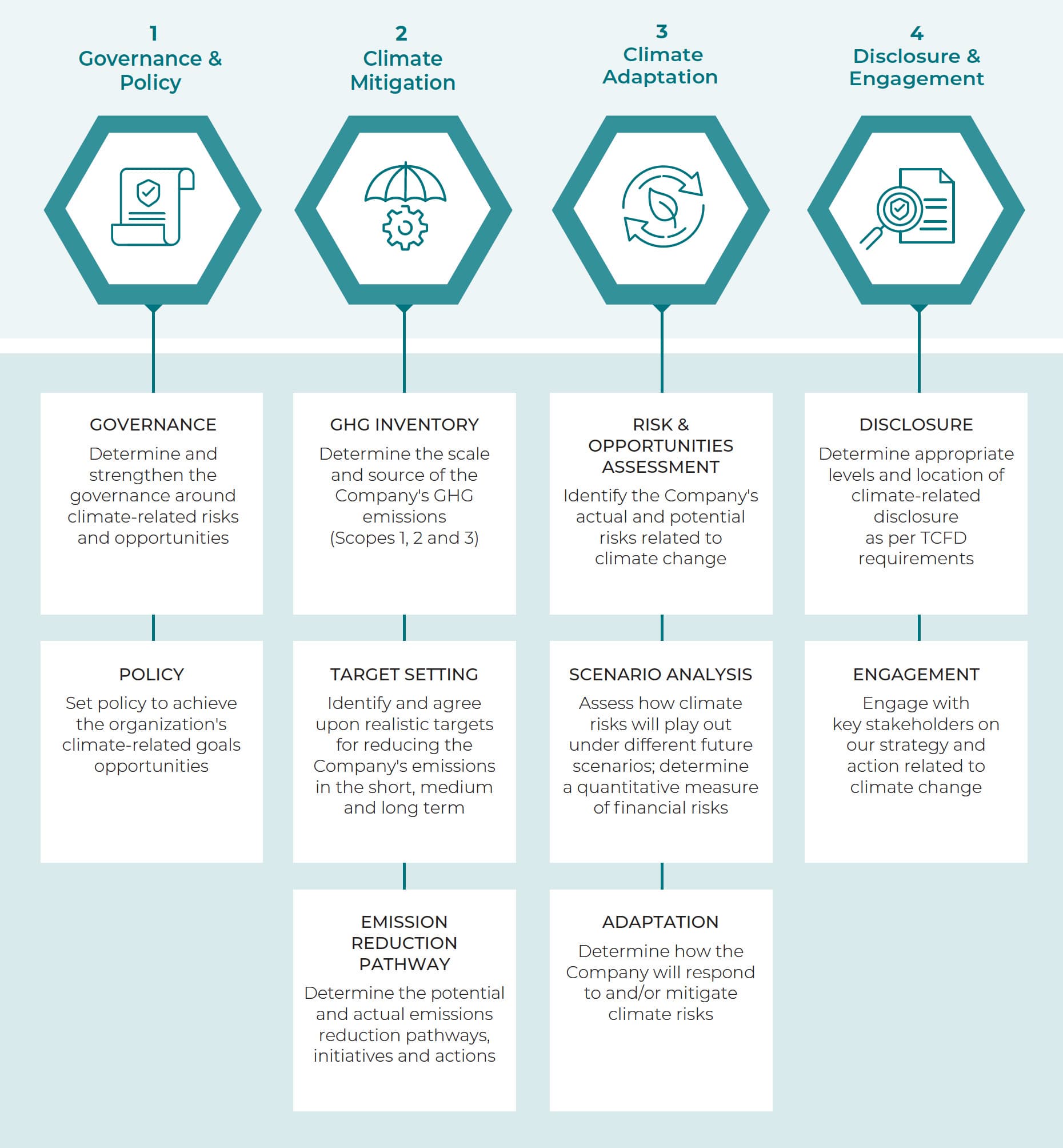 Per tonnes CO2e
2022
2021
2020
Industry
Average
GHG Emissions Intensity1
0.28
0.23
0.50
0.67
1 Emissions intensity is calculated by dividing total amount of produced gold ounces by the total Scope 1 and Scope 2 emissions. The emissions intensity includes production of both gold and copper.
GHG Emissions and Energy Consumption Reduction
Centerra is committed to managing its GHG emissions. GHG emissions are predominantly caused by the use of fuel (in mobile vehicles and for stationary combustion), electricity consumption and the use of explosives at mine sites.
Centerra's sites in British Columbia rely predominantly on renewable power for their electricity, which allows the Company to offset its GHG emissions. At Mount Milligan and Öksüt, 100% of our electricity is sourced from the regional electricity grid, representing 12% of our total GHG emissions. In British Columbia, emissions associated with the use of grid electricity are low, minimizing Centerra's GHG emissions from electricity use. In Turkey, our Öksüt Mine uses wind energy as part of its total electricity mix.
At Mount Milligan, we annually evaluate energy-related solutions, delivery mechanisms and alternative technologies to achieve energy efficiency. In 2022, we implemented a new electric powerline for the Philip Lake water pumping infrastructure, resulting in a decrease of approximately 100,000 litres of diesel fuel annually. Additionally, the Rainbow booster station now operates with three electric pumps, further reducing diesel consumption by approximately 200,000 litres annually. We also converted 10 of 13 wells from diesel to electric in the tailings storage facility, decreasing our environmental impact.
At Öksüt, our main energy management objective is to increase our energy efficiency. To conserve energy and minimize our carbon footprint, we have undertaken various initiatives aligned with ISO 50001 standards. For example, we use a Variable Frequency Drive (VFD) starting system for our pumps which helps eliminate pump starting currents and extends the pump life. Additionally, a light-emitting diode (LED) energy safe lighting system has lowered energy consumption throughout the site.
Our Story: Lower Rainbow Valley Well Field Electrification Project in British Columbia
FIVE-Year Global GHG Emissions Summary2
| Year | Scope 1 | Scope 2 |
| --- | --- | --- |
| 2022 | 101313 | 13210 |
| 2021 | 97303 | 11417 |
| 2020 | 367443 | 43720 |
| 2019 | 442674 | 29580 |
| 2018 | 433038 | 30387 |
2 The 2019 GHG emissions included Öksüt's emissions for the first time. In addition, to create reporting accuracy and consistency across our operating sites and new mines coming online, namely the Öksüt Mine, in 2019 we standardized our global GHG emissions reporting. This means that our GHG emissions cannot be compared; nonetheless, this chart provides an accurate trend. Data is much lower for 2021 due to removal of Kumtor emissions.
2022 Global Scope 1 and Scope 2 GHG Emissions
| Tonnes CO2e | Scope 1 | Scope 2 | Total | Percentage of Total |
| --- | --- | --- | --- | --- |
| Mount Milligan | 78,652 | 6,714 | 85,367 | 75% |
| Öksüt | 22,661 | 6,496 | 29,157 | 25% |
| Total | 101,313 | 13,210 | 114,524 | 100% |